Setting up the interface - Printed Circuit Board (PCB)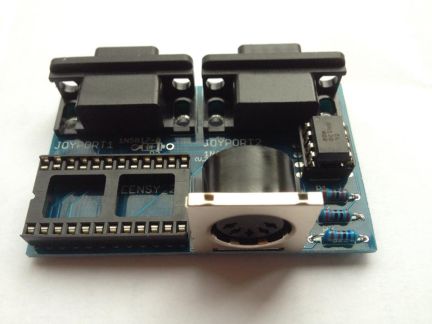 The interface can also be set up as a standalone circuit. This has the advantage that the design already includes the necessary wirings for a "classical" serial MIDI input connector. Also, if you remove the metal screws from the joystick port connectors on the device, the board fits directly into the original C64 as well as the C64C - the Atari connectors are unfortunately too far apart for such a small design.
CAUTION! Joystick ports carry a relatively small but potentially damaging 5V current on one of the pins. Connecting the pins in a wrong way may potentially damage your home computer, the MidiJoy device and/or any other connected equipment. It is also generally safest to cold start the computer before attaching the device.
You can find the Gerber files for manufacturing the printed circuit board (PCB) here - they are for private, non-commercial use only. The board layout contains descriptions where each part should be placed.
Currently, I still have a few prototypes left from developing which I would give away for material costs. Contact me if you are interested.
For populating the PCB, you need the following items if you just want to use USB-Midi:

1 Teensy 2.0 Board with pin-header (in Germany available at Watterott)
1 IC socket, 24 pins (15.24mm raster size)
2 female DB9 (D-Sub) connectors for PCB
2 joystick extension cords or 2 fully patched DB-9 extension cables (m/f), unless you use an (original) C64 where the device fits directly into the computer once you remove the metal screws from the DB9-connectors
If you want to add serial Midi functionality as well, you need to add the following:
1 planar epitaxial diode 1N 4148
1 optocoupler 6N 138
1 IC socket, 8 pins (raster size 7.62mm)
1 female MIDI connector for PCB (for example MABPM 5S)
1 resistor 220
1 resistor 1.2k
1 resistor 5.6k
For German customers, a list of all necessary parts can be found